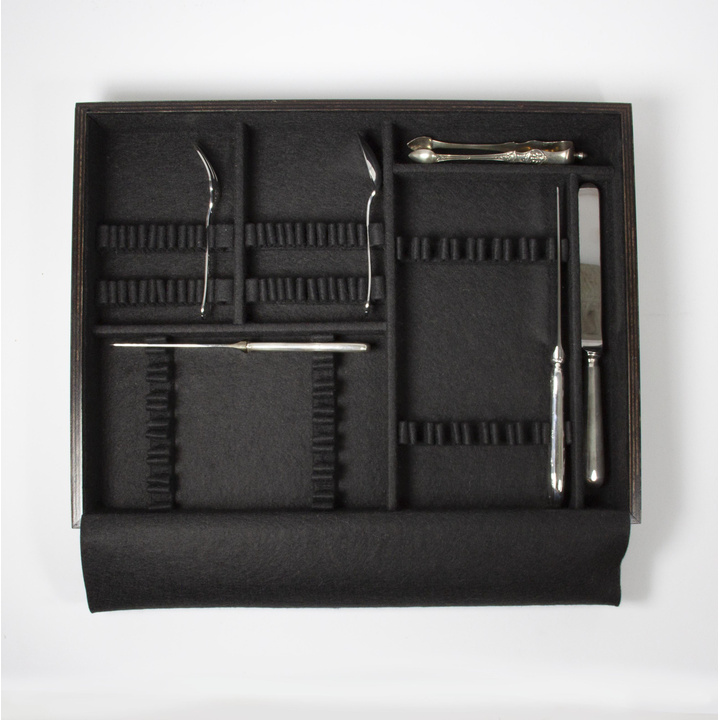 Description
---

Drawer 1:
Table 12 knives 26,5 cm
12 dessert knives 23 cm
12 teaspoons 16 cm
12 forks 16 cm
1 sugar tong
1 cheese service knife
Drawer 2:
48 forks or spoons up to 22.3 cm
3 to 4 flat service pieces
Drawer 3:
12 fish cutlery (24 pieces) up to 22.3 cm
12 oyster forks up to 15,5 cm
1 ladle
2 pieces of service
You are here to be a self-made.
Do not hesitate to contact us on +33 (0) 1 42 78 53 67.

Description:
Wooden chest, plywood birch stained Wengé
Handles: contemporary anodized aluminum
External dimensions: 45.5 cm (length) x 35.5 (depth) x 21.5 cm (height)

Inside:
The drawers are equipped with storage racks covered with antioxidant felt to accommodate your cutlery.
Your work in the coffe of coffers without overcost. This work done in our workshops allows to better adapt the chests to your cutlery.
They are fully earned in antioxidant felt to prevent oxidation your silverware.
In addition, each drawer is incorporated to cover it and keep it safe from the air.
So your silverware stays bright for a long time.