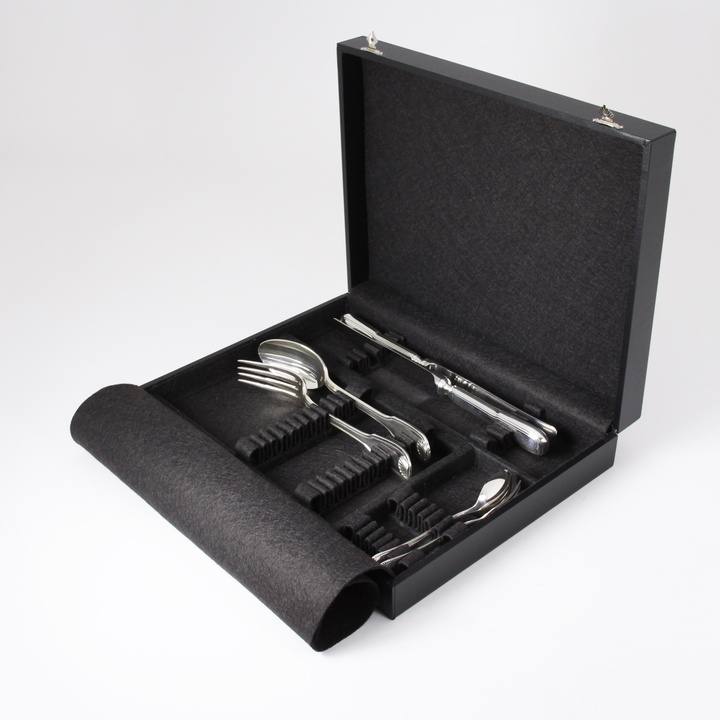 Description
---
Anti-tarnish vacuum box for cutlery in silver or silver metal.
This elegant box containing a 24-piece housewife is completely covered inside with a felt treated against oxidation.
Your cutlery silver metal or silver no longer oxidize when stored in this box guaranteed antioxidation.
A flap integrated into the case allows you to cover your cutlery once stored in their homes to ensure total effectiveness against oxidation.
Technical characteristics :
Inside: covered with brown-black guarantee anti-oxidant felt. Integrated flap to cover cutlery.
Exterior: medium (reconstituted wood) covered with Ecorel, very resistant coating perfectly imitating leather grain.
The racks receiving the cutlery are wrapped with antioxidant felt which gives them the flexibility and support necessary to adapt perfectly to the shape of your cutlery.
Color: black.

External dimensions: 31 cm x 24 cm x 6 cm (longxLargxh)
Cutlery lengths that can be stored:

6 tablespoons up to 8,4 inch
6 forks table up to 8,4 inch
6 coffee spoons up to 10,6 inch
6 knives table up to 5,9 inch

100% French manufacturing