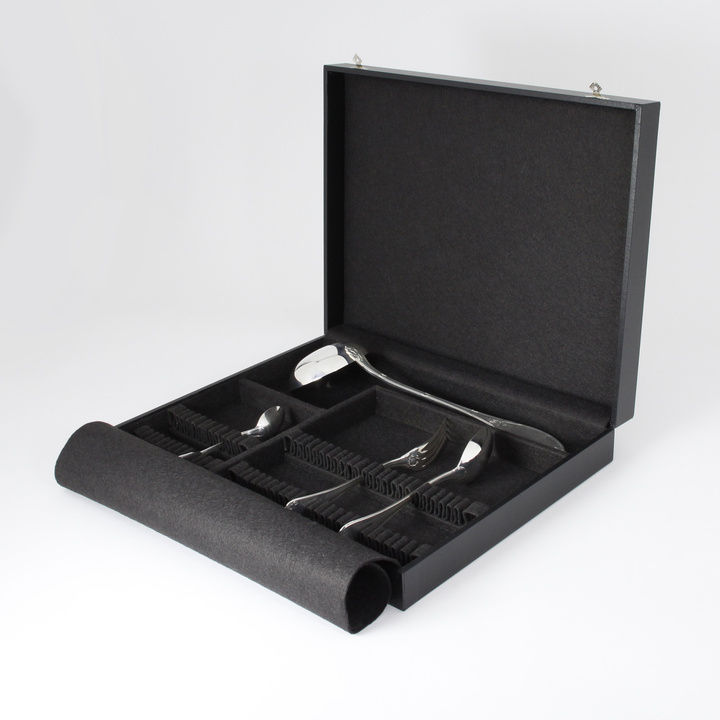 Description
---
Anti-tarnish vacuum box for cutlery in silver or silver metal.
This elegant box which can contain a housewife of 37 pieces is entirely covered inside by a felt treated against oxidation.
Your cutlery silver metal or silver no longer oxidize when stored in this box guaranteed antioxidation.
A flap integrated into the case allows you to cover your cutlery once stored in their homes to ensure total effectiveness against oxidation.
Technical characteristics :
Inside: covered with brown-black guarantee anti-tarnish felt. Integrated flap to cover cutlery.
Exterior: medium (reconstituted wood) covered with Ecorel, very resistant coating perfectly imitating leather grain.
Supports receiving neck zverts are wrapped with anti-tarnish felt which gives them the flexibility and support necessary to perfectly fit the shape of your cutlery.
Color: black

External dimensions: 37cmx29cmx7cm (longXLargxhaut)
Cutlery lengths that can be stored:
12 tablespoons up to 8,6 inch
12 table forks up to 8,6 inch
12 coffee spoons up to 5,9 inch
1 ladle or service pieces up to 12,9 inch