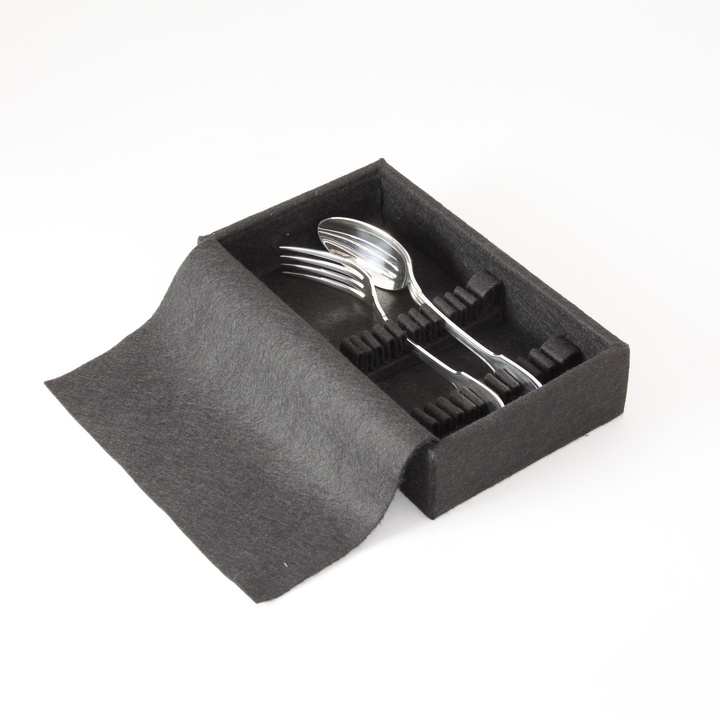 Description
---
Cutlery up to 8,6 inch
To put in the bottom of a drawer or to stack in a cupboard, it is the ideal storage in order to profit regularly from your silverware.
You will be able to use very easily your silverware you will have only to raise the flap to reach the cutlery. But you can also take the bowls individually to set your table.
Not suitable for table knives.

Technical characteristics:
Dimensions (longxLxH): 24x14.5x5 cm
Color: black brown antioxidant felt
MDF (wood fiber) and completely filled with antioxidant felt to protect your cutlery from scratches and oxidation.
Flap incorporated in anti-oxidant felt so that your silverware stays sparkling for a long time.
Use advice: fill the bottom of your drawer with adhesive felt which will allow you in places that will remain free to place your service pieces on our individual supports.
Our advantages:
Guaranteed antixoydant felt
Flap incorporated
Individual modules for service rooms
MANUFACTURE 100% FRENCH.